Photos courtesy of Red Deer Market
Red Deer Market (Red Deer, Alberta)
Red Deer Market is one of the longest running markets in Canada, with the first public market taking place in 1906! To put that into perspective, that's one year after the world's first radio transmission, one year after the theory of relativity was introduced by Einstein and the same year that the toaster heating element was invented. Exciting times.
While it disappeared after the First World War (people had more pressing matters to attend to), it sprang back to life in the 1970's and has since flourished to house over 200 diverse vendors that offer such a wide variety of products that the market has been deemed a "public market" rather than just a farmers' market. But don't be worried, that just means that while you can still enjoy fresh local produce, meats and prepared foods, you could also buy a handmade quilt, some jewelry or learn Tai-Chi.
Dennis Moffat, who has managed the market for the past 47 years, says he has seen many children grow up at the market with it being a traditional family activity every Saturday morning and is extremely proud to see it grow over the past several decades.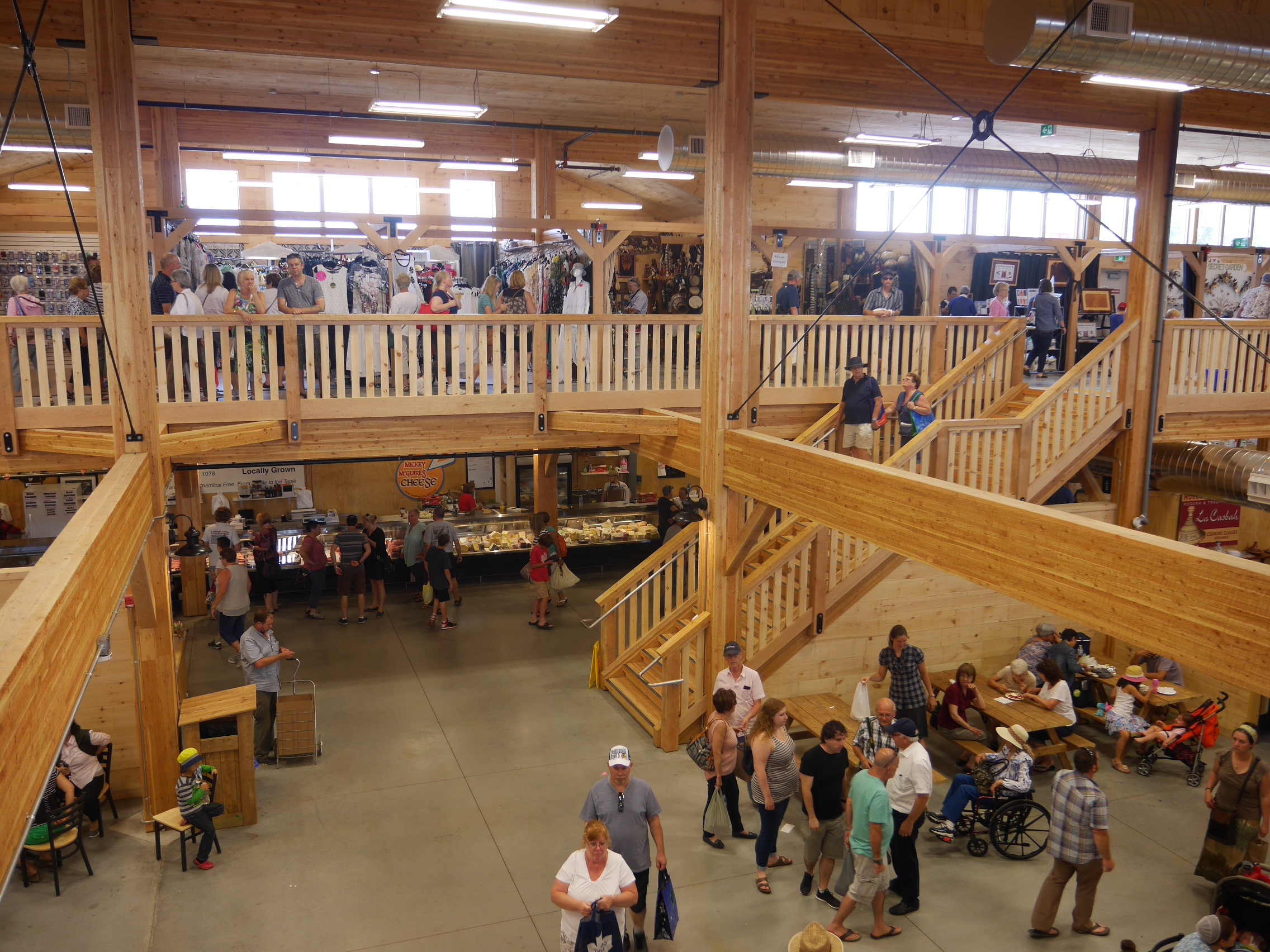 Photos courtesy of St. Jacobs Farmers' Market
St. Jacobs Farmers Market (Waterloo, ON)
St. Jacobs Farmers Market is among the largest ones in Canada and offers everything you'd want from a market and a lot more. Apart from getting fresh, local food, you can enjoy some theatre, play with some furry friends at the petting zoo and take a ride on a horse drawn carriage. Don't forget to check out their most popular products, summer sausage and maple syrup.
Photos courtesy of Yellowknife Farmers' Market
Yellowknife Farmers' Market (Yellowknife, Northwest Territories)
The Yellowknife Farmers' Market is the newest market on this list, but also one of the most interesting. The market's main objective, other than hosting the market itself, is to support the development of local food systems and food based economic development.
Through their Landshare Program, the market helps to connect landowners to growers to help develop under-utilized land and garden areas, creating a mutually beneficial relationship that helps both parties while simultaneously increasing local food production.
They have created the Yellowknife Food Charter, and are deeply committed to developing a local food strategy to help fight food insecurity in the city. This plan, with support from the city, would encourage local food development through a multi sector support including changing zoning by-laws for food production land, reducing tax rates on food producing land, transitioning city parks to grow edible plants instead of ornamental and bringing a variety of systems together to support food production as strongly as possible.
Yellowknife Farmers' Market is a perfect example of how a market can become more than just a place to buy food, and instead becomes a meeting place that brings people together for the betterment of the community as a whole.
Photos courtesy of Kelowna Farmers' and Crafters' Market
Kelowna Farmers and Crafters' Market (Kelowna, BC)
Kelowna Farmers' Market and Crafters' Market features over 165 vendors with everything from local fruits, veggies, meats and dairy to wood carvings, horse hair pottery, glass infused pendants, and locally made leather items. The market is open year-round on Wednesday and Saturday mornings, changing locations to host an indoor market over the winter months so you can enjoy the local foods and goods all year!